Sitemap were used in Government sites to link their main pages, in early 2000s and this page contained all the pages of a specific site. But now-a-days, we see some site have such HTML sitemap. However, it have been changed every things from manually created HTML bulleted list. Today, webmasters code sitemap in XML instead of HTML and their aim visitor is search engines and not people.
If you have many question in mind like…
What is sitemap?
Is it necessary to have a sitemap on my site?
How can I create a sitemap in WordPress site?
Then you are now at right place to remove all confusion and solve all problems.
What is XML sitemap for WordPress site?
XML sitemap is the list of pages which contain all the pages of a website and all users can visit list of sitemap. Using sitemap, website owners tell to search engines about all the pages that are existed on their specific website. Sitemap is not used to boost website ranking but it help search engine to better crawl your site.
Why XML sitemap is necessary for you Website?
If I have already said that sitemap is not affected to boost website rank but it is very important for Search Engine Optimition(SEO). Suppose, one of your website pages has problem to index with search engine, then sitemap help you to provide a way by which you can index that page in search engines with proper way.
Sitemap is very helpful for new website. As most new websites don't have many back links for all posts and pages that is why it is very difficult for search engines to find all the individual post and page. At this position, sitemap help those pages and posts to be crawled in efficient way.
Sitemap interact with search engines more effectively. So, search engines can guess how often your site should upload and which parts of you site are uploaded better than others. It also set crawl rate for your site and so more. Sitemap boost the overall visibility of your site on search engines like – Google, Bing and Yahoo etc.
Way to Generate a Sitemap in WordPress
You have many options to create a sitemap in wordprss but using yoast SEO plugin, it is easy to generate XML sitemap. I personally prefer to use this plugin because it allows me to optimize my blog more efficiently along with offering others features such as titles and meta descriptions, social metadata, sitemaps and much more. We see that it has more work efficiency other than standalone sitemap generators for wordpress. Using this plugin you also can generate custom video sitemap.
First of all you need to install and active yoast SEO plugin to add a sitemap in you wordpress website.   Then you have to enable XML functionality from advance setting to tell yoast SEO plugin to generate a sitemap for you site because it does not enable this functionality by default. To enable this functionality, click on SEO from your wordpress dashboard then you will see general yoast SEO setting and click features and now you have list of features. From this list just enable the advanced setting pages and save setting. You may see many options when enable this setting but you can skip those and save.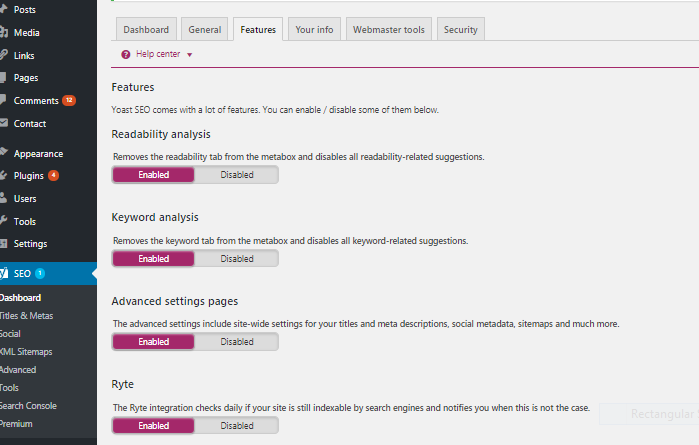 How to Ping Search Engines about your Sitemap?
Search engines are very smart to find a sitemap. A ping is sent to search engine when you published a new post or page to tell about changes in your site. After that I strongly recommend you to submit your sitemap to Google webmaster tool or Bing webmaster tool because it has many benefits. If you submit sitemap, Google will show you if there is any things errors, page indexed and other status which will help be very helpful to you as a webmaster.
Just open webmaster tools and sign in.  Then you will see "add a property" click on and add you website URL. After adding, you will be asked to verify the ownership of the website which you try to add. To very ownership, you can see many potions but here, I am going to discuss using yoast SEO plugin, just choose first option name "HTML tag" and copy the meta tag code below you have and remain the webmaster tools open because we will be back on that page to verify the ownership of site. Now open you webmaster admin dashboard and click on SEO and you will be able to see "General yoast SEO" from there click on webmaster tools tab. Now you are looking different webmaster tools boxes such as Google, Bing, Yahoo, etc. Paste the HTML code on Google webmaster tools box and save setting.
Now go to back on Google webmaster tools and press site verification button. You will see a message like "Congratulations you have successfully verified your ownership of www.example.com". Click on continue to go your webmasters tools dashboard for you website.
Ones you are on Google webmaster tools dashboard, under crawl you can see sitemap option. Then click on sitemap and you will see a button with name "add/test sitemap" click on the button and it will show a URL submit box providing you domain name.
On the box you have to paste "sitemap_index.xml" this text as your sitemap URL and submit. Then you will see as pending because Google take some time to crawl your website. After some time you can see the status of your sitemap. Here you can see how many links are found and how many of them got indexed to Google and also ratio of images and webpage, and so on.
Try to check webmaster tools minimum one day within a month and get an insight in your website status. Then remove all those are not relevant with you site and make it clear to improve ranking.
I hope you are now clear about XML sitemap. So, check webmaster tools and utilize more and more.
Read More: