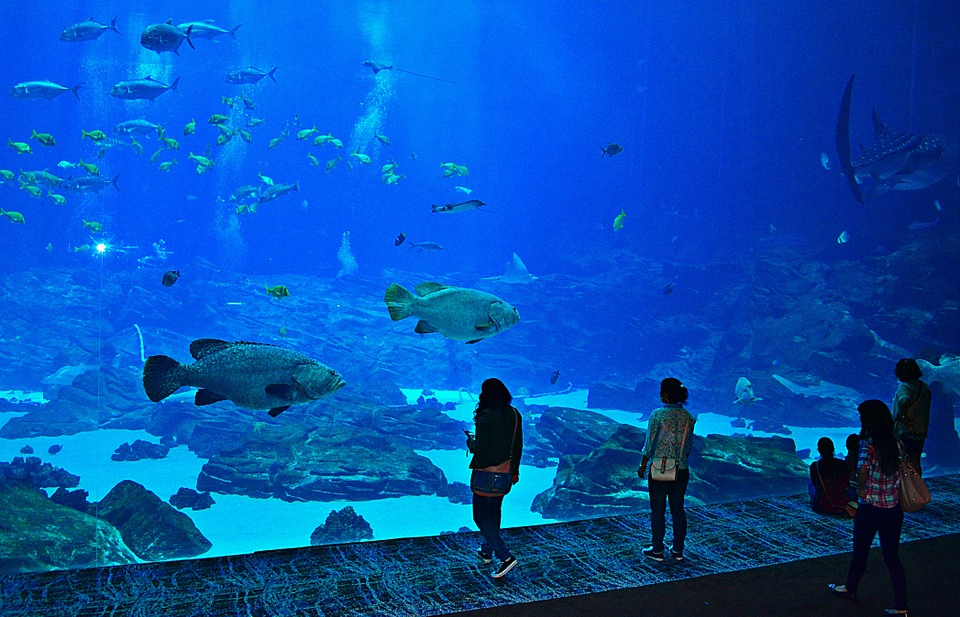 The beauty of underwater life is incomparable and in many ways the best kind ever. It isn't possible to explore incredibly deep waters of the ocean owing to its vast, seemingly endless depths. But a visit to the local aquarium will give you a chance to see what life under mysterious sea is like. Visit some of the best aquariums in the US this year and experience the wonder of deep-sea exploration.
Best US Aquariums to visit:
We've brought you a list of some of the best aquariums in North America to explore. Located in some of the best US cities, these aquariums are among the finest in the world. Take your family along and look at stunning creatures that live beneath deep waters of the sea. If you live outside of the US, you should definitely travel here, even if last minute, and visit some of these amazing aquariums. Check with the aquarium before you visit if it is permissible to carry your camera along as you will definitely not want to miss capturing remarkable moments on film.
1. Georgia Aquarium US:
Spread across more than 550,000 square feet, Georgia Aquarium is famous for being the largest aquarium in the world. The aquarium easily holds thousands of fish in more than approximately 8 million gallons of water. Take your kids for a once-in-a-lifetime experience here. Species you can expect to see here include manta ray, white shark, bottle-nose dolphins, and beluga whales among others. For all these reasons and more, this is considered by many to be the best aquarium in the world.
2. National Aquarium, Baltimore:
This is one of the best aquariums in the US you can visit boasting of over 600 species of stunning sea creatures. Kids immensely enjoy the dolphin shows which are as educative as they are interactive. Apart from the marine life, you will also encounter certain land animals like puffins and two-toed sloths as well. This isn't all. There is a rooftop rainforest as well here housing tree creatures and birds of various kinds. No wonder then that the aquarium attracts millions of visitors every year.
3. Sheds Aquarium, Chicago:
One of the front runners in conservation efforts, Shedd Aquarium is home to more than 8,000 marine animals. Established in the year 1930, this was the first aquarium that displayed a permanent collection of marine life. Expect to encounter remarkable creatures such as beluga whales, dolphins, sharks, piranhas, anacondas, and sea lions among others. Displaying unique architecture, the aquarium also houses about 30,000 plus critters. Travel to Chicago comfortably in business class and come explore this remarkable aquarium.
4. Monterrey Bay Aquarium, California:
This is among the best aquariums in the US not just in terms of the marine life it houses but also owing to its conversations efforts. It is situated along the tranquil and picturesque Pacific coast and barely a stone's throw away from Pebble Beach. With interactive exhibits, the aquarium keeps kids entertained and is also famous for housing one of the largest seahorse species collections ever. Other popular exhibits include adorable sea otters and spectacular giant octopi.
5. Audubon Aquarium of America, New Orleans:
Though not as large as the other aquariums on the list, this one is still worth a visit if you happen to be in New Orleans. The aquarium made a miraculous recovery after the devastating effect Hurricane Katrina had on it. Top attractions include a spectacular walk-through tunnel and the breathtaking Caribbean reef exhibit. They even have a greenhouse that's climate-controlled and a touch pool where kids can have a hands-on experience with some safe sea creatures.
6. Oregon Coast Aquarium, Newport:
This is widely regarded as one of the most affordable and kid-friendly US aquariums. The museum focuses on marine life from across the Oregon coast and is among the most popular ones in the region attracting close to half a million visitors every single year. The Passages of the Deep exhibit is its top attraction stretching for around 200 feet surrounding visitors on all sides with a variety of marine life. You will find spectacular animals such as otters, sea lions, seals, a variety of jellyfish, and many different bird species as well.
7. Florida Aquarium, Tampa:
Famous for its arching glass roof, this is one of the best aquariums in the US to visit if you wish to know about marine life in Florida. There are walk-through tunnels you can enjoy as well the stunning Coral Reef Gallery which will leave you speechless. You can bring along swimsuits for kids so they can enjoy the outdoor play area equipped with geysers and water cannons among other things. Animal shows are held here as well. You even have the option to enjoy an eco-friendly tour of the Tampa Bay lasting for about two hours. Book cheap flights with Indian Eagle and make the trip here to enjoy one of the best aquariums in the US with your family.
Read More: