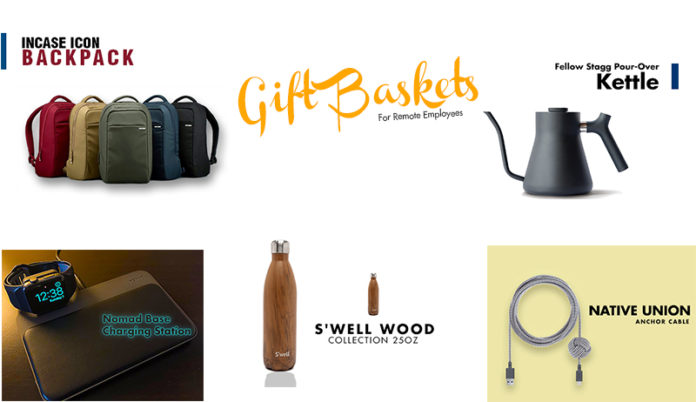 Choosing the right items to include in the gift baskets for employees working from home is sometimes challenging, and pleasing everyone is probably your main goal. As a corporate manager, a remote supervisor, or as a business client, it is important to choose carefully.
In this article, you will discover the nicest tech items, the corporate gifts for clients and employees working remotely, and ultimately the products that always impress everyone.
Make sure to stick until the end if you want to make your employees happy, strengthen your working relationship with your client, or if you simply want to know the employee swag kits to raise your employer's satisfaction.
S'well Wood Collection 25oz – $35.00
One of the secrets of remaining productive when working remotely is to drink a lot of water. For this reason, this is an ideal addition to some gift baskets for employees working from home.
It is able to keep drinks cold for up to 54 hours and cold for up to 26 hours. Needless to say that this bottle will become one of your employees' best desk accessories.
Moreover, its wall layer creates a condensation-free exterior that will not sweat on the hands or the desk, and most employees or clients will love it.
Last but certainly not least, it can hold an entire bottle of wine, which makes it the perfect item in the corporate gift baskets for your employees.
Fellow Stagg Pour-Over Kettle – $79.00
This pour-over kettle is an incredible product to be added to some unique corporate gift baskets for employees or clients.
In fact, it will not only make coffee or tea in the morning in an elegant way, but it will let you know the water temperature so that you can prepare your drink exactly the way you like it. Also, it is available in different styles with its copper, black, and metallic versions and that will definitely please both employees and clients.
Lastly, it has a precision pour spout to pour over the water slowly and precisely. While it is certainly more premium compared to other kettles, it also feels great, looks professional, and will be a great addition to any workspace whether working at home or remotely.
Native Union ANCHOR Cable – $34.99
If there is one item that can be useful to employees, coworkers, and clients, it's the anchor cable from Native Union. When working remotely, we all need to have our phone charged all the time to receive important notifications.
Other than that, its weighted knot makes it remain stable on any surface. For these reasons, it is some of the best additions to the custom corporate gift baskets for employees or clients.
To sum up, whether you want to please your employees or strengthen the working relationship with your clients, this is the item you're looking for.
Nomad Base Charging Station – $99.95
Whether your employees are tech lovers or simply want to make their life easier, this is the right product to please them all. It is incredibly useful since it can charge four devices at the same time.
While it can only charge two devices wirelessly, it has two extra ports to charge other devices such as earbuds or tablets. Also, it has an elegant look which will make their workspace at home look more professional and increase their productivity in the longer term.
In conclusion, it is the perfect tech item to add to the unique gift baskets for employees working from home that will make them happy and motivated.
Incase ICON Backpack – $199.95
Working remotely or at home doesn't mean staying locked up inside the whole time. While this is a crisis situation and not everyone can get outside, it is still a fantastic item to give to employees or clients.
It can carry a 16" laptop, a tablet, some notebooks, and even personal belongings like headphones, mobile, and more. Also, it has a big number of pockets to keep everything organized, which is always a great feature.
Moreover, it is a great backpack to go to business meetings, but also to take with you to the gym or on a long weekend. To conclude, it is the perfect backpack to take with you anywhere and definitely to include it in custom corporate gift baskets.
Read More :