The rivalry for beauty between outdoor and indoor spaces has become tight. Nowadays, outdoor areas have a nifty arrangement of furniture pieces like couches, sofas, and love seats, and even furniture for dining.
Due to this change of making an outdoor space like an indoor area, there is also a shift in the choice of furniture pieces. Buying furniture pieces for your outdoor area will not only depend on the aesthetic aspect, but also on function and durability.
You must expect that in furnishing your outdoor area, you will expose your furniture pieces to various outdoor elements. It is only important that you choose durable ones. For you to make your outdoor area functional and awesome, you must furnish them with these furniture pieces.
Put On Some Sunshade
When summer months come, you must expect the warm weather all around you. It is important that you have a sunshade with vibrant colors to protect you from the sun. During summer months, most people like to have a small picnic in their outdoor.
A shade in your outdoor area will not only protect you from the sun but will also put some style to your outdoor area. You can pair the shade with colorful bistro set. Vivid sunshades are soothing to the eyes, especially when you are enjoying the sun.
Outfit Your Outdoor with a Bright Color Bench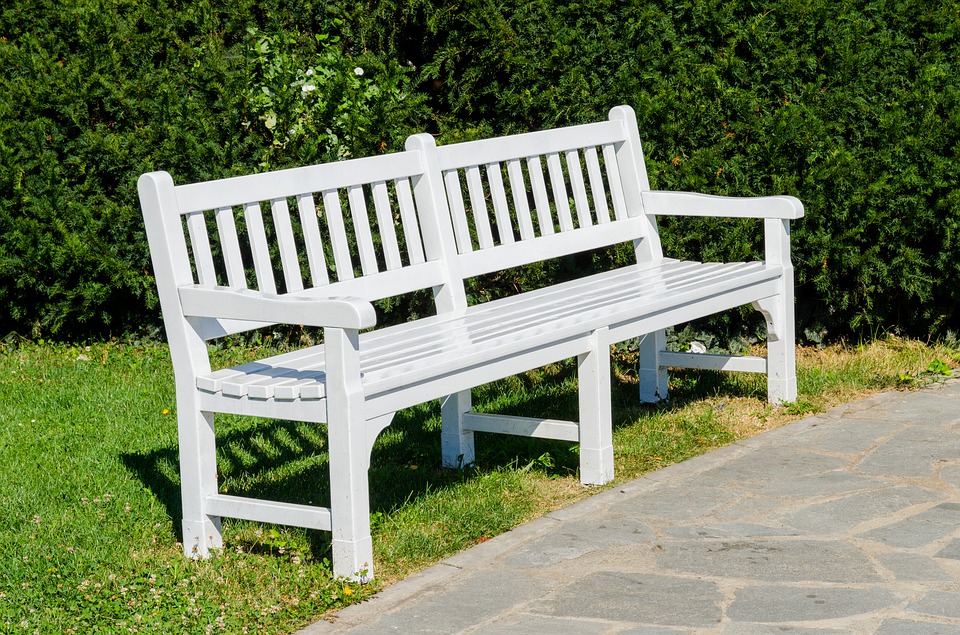 It will be a good idea if you have a vibrant, plain-constructed bench with planters for your garden area. For example, you can buy a bright color of orange for your outdoor bench.
Along with that, you can pair it with a trio of trellises in the backdrop to create an illusion of height and pattern. Trellises are essential if you have a low seating area for your outdoor.
Furnish Your Outdoor with Daybeds
Outdoor is for relaxation, and if you want to create a comfortable and soothing outdoor space, you must furnish it with daybeds. You can have your reading time, afternoon nap, and sunbathing in your outdoor daybeds during your free hours.
You can accessorize it with bright-colored throw pillows and shade to make your outdoor space lively and vibrant. If you go to home furniture centers nowadays, you will find daybeds that come with built-shades that is excellent for afternoon lounging.
Go for Timber Side Table
Do you dream of spending your family bondings on your patio, sitting on a wooden chair around a timber side table? Does it sound relaxing?
There are a lot of timber side table that you can find in the market nowadays that are functional and have excellent designs. There are 6 x 96 timber side tables with four legs for its stand by a circular saw.
Timber side tables are a worthy addition to a traditional patio. It will also be a great idea if you put on some vibrant rug.
Don't Forget the Outdoor Dining Set
An overly-formal dining set may not be attractive to some homeowners. It is the reason why they go for a bar-themed outdoor dining area. Even home designers recommend that you provide your outdoor with a cafe, bar, and lounge area for a fun and comfortable dining moment.
If you want to go for a popular outdoor lounging area layout, you can have a transitional wingback seating for this purpose. Just make sure that the excellent furniture pieces can withstand the weather elements for you to use it for many years.
Choose a Painted Bistro Set
Personalization of your outdoor furniture has become a trend when it comes to designing your outdoor space. If you want to create a character for your outdoor, there are few better things than putting some coat of paint on your furniture pieces.
For example, you can paint your bistro set to create a fun outdoor environment. Just express your creativity in the paintwork and have some fun in your do-it-yourself project.
Choose paint colors like rainbow hues or monochrome colors to paint your bistro set. Go for paints that can resist the various outdoor elements like the weather.
Wheeled Desks
Desks are useful to have on your patio. You can put your food on it during outdoor social gatherings, do your office work in there, or make it a holder for your collections. For convenience, go for desks on wheels.
You can transfer wheeled desks to other areas in your house with more ease. For a sturdy and durable desk, choose metal ones. You can look for wheeled desks in sites like Focus on Furniture.
Takeaway
Furniture is an essential addition to your home, especially for your outdoor spaces. Aside from function, furniture also creates the style and character of your outdoor area. You can take your cue from the furniture tips mentioned above for this purpose.
Read More: